December 2020 - January 2021 | Online, wherever you are
The following games will be featured during the Winter of Reacting:
Week 1 (Game 1): December 14-15, 2020: Game of Sages: War and Diplomacy in China, 223 BCE
Week 1 (Game 2): December 16-17, 2020: Food Fight: Challenging the USDA Food Pyramid, 1991
Week 2: December 28-30, 2020: Frederick Douglass, Slavery, and the Constitution, 1845
Week 3: January 4-6, 2021: Greenwich Village, 1913: Suffrage, Labor, and the New Woman
Week 4: January 12-13, 2021: US Investment in Liberia, 1925-35: "Mr. Firestone, What Are You Up To?"
All games will be played synchronously. Each game will utilize a live video platform such as Zoom, as well as a communication platform such as Slack.
In addition to the featured games, a Winter Conference Workshop hosted by the University of Georgia will be held from January 15-16, 2021, focusing on issues of Diversity, Equity, and Inclusion. We will also be hosting an interactive session, "Curriculum Change in Trying Times," on January 7, 2021.
To navigate this webpage, click the header links on the column to the left.
Featured Games
Gamemasters: Sandrine Catris & Andrew Goss
Offered December 14-15, 2020
The game is set at the end of the Warring States era. In 223 BCE, there were only five states left, Qin, Chu, Qi, Zhao, and Yan. Qin was the strongest and westernmost state. The game takes place on the eve of the Qin's conquest of the state of Chu, the large southernmost state. The game is played from the perspective of the four states who fear that the state of Qin might annihilate their states as they did with states like Hann and Wei. The main characters in the game are the historical King of Chu, sages (traveling persuaders) who adhere to the different Chinese philosophical trends, and statesmen from the different states (some of them are historical characters). They have gathered at a (counterfactual) council hosted in the capital of the state of Chu. Some of the characters hope the states will develop a unified coordinated response to the Qin. They are seeking to create a vertical alliance, a historical effort to unify non-Qin states to stop the Qin's expansion eastward. The game has three factions, and each propose a different diplomatic alliance: attack the Qin collectively, defend against the Qin collectively, or negotiate a surrender collectively. The core conflict revolves around how to apply one or more of the philosophies to the real political problem of Qin expansion.
Game authors: Sandrine Catris, Andrew Goss
Game Schedule
| | |
| --- | --- |
| Monday 12/14 | 7pm-8:30pm ET |
| Tuesday 12/15 | 7pm-8:30pm ET |
Gamemaster: David Henderson
Offered December 16-17, 2020
7-8:30 PM
This game is set in a Congressional hearing to evaluate the work of the USDA in developing the Food Pyramid in 1991. This document angered various interest groups in agribusiness and the role of special interests versus the basic nutritional science is an important factor in the hearings. Furthermore, the Department of Health and Human Services which includes the FDA and CDC object to the inherent conflicts in the USDA which are reflected in the Pyramid. Students come to see that the Pyramid reflects a combination of science and politics.
Food Fight is RTTP's first OER (open educational resource) game. Instructors may download a free eBook at http://reactingconsortiumlibrary.org/usda.
Game authors: Susan Henderson, David Henderson
Gamemaster: Mark Thompson
Offered December 28-30, 2020
Frederick Douglass asks students to confront an explosive question: How, in a nation founded on ideas of equal rights and freedom, could the institution of slavery become so entrenched and long-lasting? How was slavery justified, and how was it criticized? At a literary forum, students consider the newly-published Narrative of Frederick Douglass and hold a hearing on John C. Calhoun's view of slavery as a "positive good." Finally, players address the US Constitution, its original protections of the slaveholders' power, and the central question: Are Americans more beholden to the Constitution, or to some "higher law"?
Game authors: Mark Higbee, James Brewer Stewart
Game Schedule
Please see the Game Schedules section of this page to view a more detailed schedule.
| | |
| --- | --- |
| Monday 12/28 | 11am-2:30pm ET |
| Tuesday 12/29 | 10am-2pm ET |
| Wednesday 12/30 | 10am-2pm ET |
Gamemasters: Jenn Worth
Offered January 4-6, 2021
This game immerses students into the radical possibilities unlocked by the modern age. The classroom is transformed into Greenwich Village in 1913, where rebellious "free spirits" gather. Exposed to ideas like woman suffrage, socialism, birth control, and anarchism, students experiment with forms of political participation and bohemian self-discovery.
Game author: Mary Jane Treacy
Gamemasters: Suzanne McCoskey & Andrew Beachy
Offered January 12-13, 2021
The year is 1932 and the ambitious investment by the Firestone Tire & Rubber Company in the West African country of Liberia is at a crossroads. Recent reports of "slave labor" in Liberia have come to the attention of the League of Nations and US State Department and, while the original allegations are not specific to the Company's rubber operations outside of Monrovia, the international attention given to these reports could have a grave impact on the future of the Company. The League of Nations has investigated the labor issues in Liberia and has called witnesses to London to provide their testimony: should the future of this troubled country include a role for the US company or is it time for Firestone to leave Liberia?
Game authors: Suzanne McCoskey, Andrew Beachy
Game Schedule
| | |
| --- | --- |
| Tuesday 1/12 | 1pm-2pm, 3pm-5pm ET |
| Wednesday 1/13 | 11am-1pm, 3pm-4pm, 4:30pm-5:30pm ET |
Curriculum Change in Trying Times
January 7th, 2-3:30 PM ET
In this interactive workshop, a panel of veteran administrators and faculty who have been involved with the Reacting to the Past Endeavor Grant project (working with 20 institutional teams on significant curriculum change) will provide insights on engaging your campus in curriculum reform to achieve your mission, meet accreditation demand, and engage students in learning. This event may be especially of interest to folks who are trying to convince or encourage administrators on your campus about the value of Reacting, and how it can support your school's mission.
PANEL:
Dr. John M. Burney (former Reacting Consortium Chair and CAO at Loras College and Doane University) will chair the session, joined by Dr. Gretchen Galbraith (SUNY-Potsdam), Dr. Nick Proctor (Simpson College), Dr. William Woods (Schreiner University) as well as veterans from Reacting Endeavor Schools. We will conclude by exploring ways in which the Reacting Consortium can  help you advance curriculum discussions at your institutions. 
Register for the workshop here.
Reacting to the Past Winter Conference Workshop
Hosted by the University of Georgia
After an academic year unlike any other, the University of Georgia is delighted to host the 5th Annual Reacting to the Past Winter Conference! This year, the Winter Conference will serve as the capstone to the Winter of Reacting events and will focus participants' attention on Reacting as a pedagogy with distinctive learning opportunities for engaging diversity, equity, and inclusion (DEI) in our classrooms. Together, we'll explore how to maximize the impact of Reacting to enhance learning, build strong connections with and among students, and increase student engagement in all instructional modalities! 
Join us virtually on January 15-16 for a two-day workshop on how to leverage Reacting to the Past games to offer students the chance for meaningful engagement with issues of diversity, equity, and inclusion (DEI). Before the workshop, select one of your Reacting courses that you would like to redesign with a DEI focus. Our exploration of these topics will be enhanced by our guest speaker, Kelly P. Dugan, who is currently a Visiting Assistant Professor of Classical Studies at Trinity College in Hartford, CT. She holds a Ph.D. in Language and Literacy Education from the University of Georgia and her research examines the function of critical language awareness practices in antiracist teaching methods.
Day 1: January 15
Session One—5:30-7:30 PM EST: Theory & Research on Diversity, Equity, and Inclusion 
T. Chase Hagood and Naomi J. Norman, co-directors of the Reacting to the Past program at UGA, will lead Session One of the workshop which will include a brief overview of intentional course design incorporating RTTP and how to assess RTTP's impact on our students. This will serve as a gateway into a larger discussion on diversity, equity, and inclusion and how Reacting to the Past can serve as a vehicle for incorporating these issues into our classes. The leaders will provide resources to participants on DEI literature and research and ask you to draft a DEI teaching statement before Session Two.
Day 2: January 16
Session Two—10:30 AM-12:00 PM EST: Diversity, Equity, and Inclusion Statements 
 
Participants will have time in small groups and with the workshop leaders to refine and polish their own statements on diversity, equity, and inclusion. This session will allow you to hear others' perspectives on these issues and encourage you to think deeply and meaningfully about why diversity, equity, and inclusion are important subjects to address in our classes. 
Session Three—2:00-3:30 PM EST: Diversity, Equity, and Inclusion in Course Design 
During Session Three you will use your diversity, equity, and inclusion statement to redesign the course you selected to address issues of diversity, equity, and inclusion. Work with other faculty and with the workshop leaders to transform your statement into a meaningful experience for your students using Reacting to the Past. To close the workshop we all will share ways that your redesigned course will incorporate issues of diversity, equity, and inclusion.
 
Game Schedules
All games will be played synchronously. Each game will consist of approximately six to seven hours of synchronous play in total, over two or three days. In addition, on each day of synchronous play, each game will start no later than 10am ET and end no later than 8:30pm ET.
Specific game schedules will vary and will be posted as soon as they are finalized.
Frederick Douglass:
Image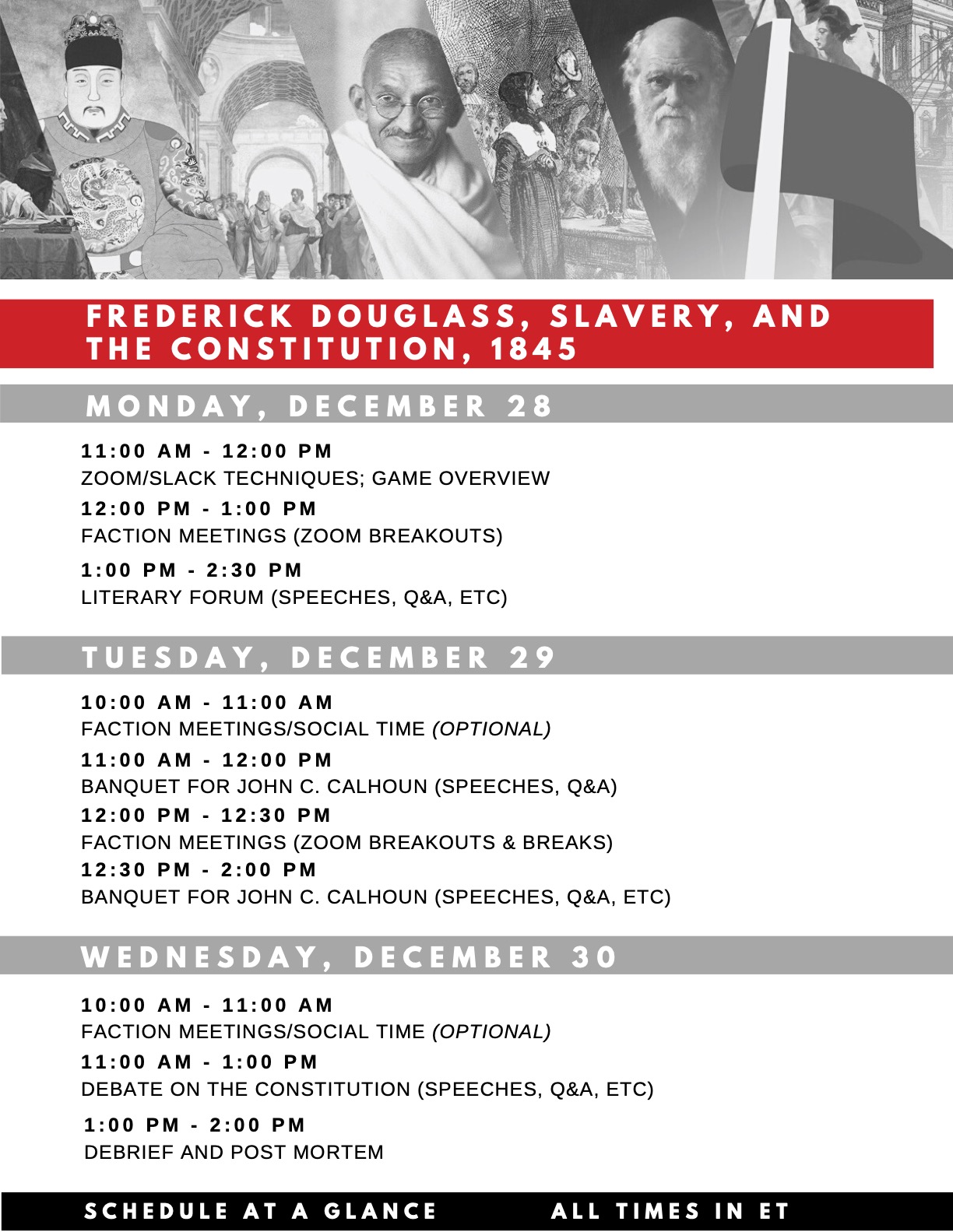 Registration Rates and Policies
Members (institutional or individual) of the Reacting Consortium in good standing for 2020 and 2021 are eligible to register at the member rate for any of the games offered. To find out more about membership, click here. If you are unsure whether your membership is active, please check our list of member institutions or email Maddie Provo at mprovo@barnard.edu.
Registration Rates
Registrants for the Winter of Reacting may choose from two registration options:
The Whole Shebang ($100 for Members, $150 for Non-Members)

Play one of the four games offered, and attend the UGA Winter Conference workshop from January 15-16, focusing on issues of Diversity, Equity, and Inclusion. You may also choose to register for more than one game, at $100 each, regardless of membership status.

Workshop Only ($50 for both Members and Non-Members)

Attend only the UGA Winter Conference workshop from January 15-16, focusing on issues of Diversity, Equity, and Inclusion.
Payment Deadlines
Credit card payments will be processed live during online registration. Institute materials will not be shipped until payment is received in full.
Changes and Cancellations
All payments are final. No refunds will be offered upon cancellation of registration.
The Reacting Consortium Board, in its sole and absolute discretion, reserves the right to bar any person from the Reacting Faculty Lounge on Facebook and from participation in any RTTP event.