Below is a list of our upcoming conferences, workshops, and presentations. The list will be updated with further details including games, locations, and content as the Consortium finalizes event planning. 
Image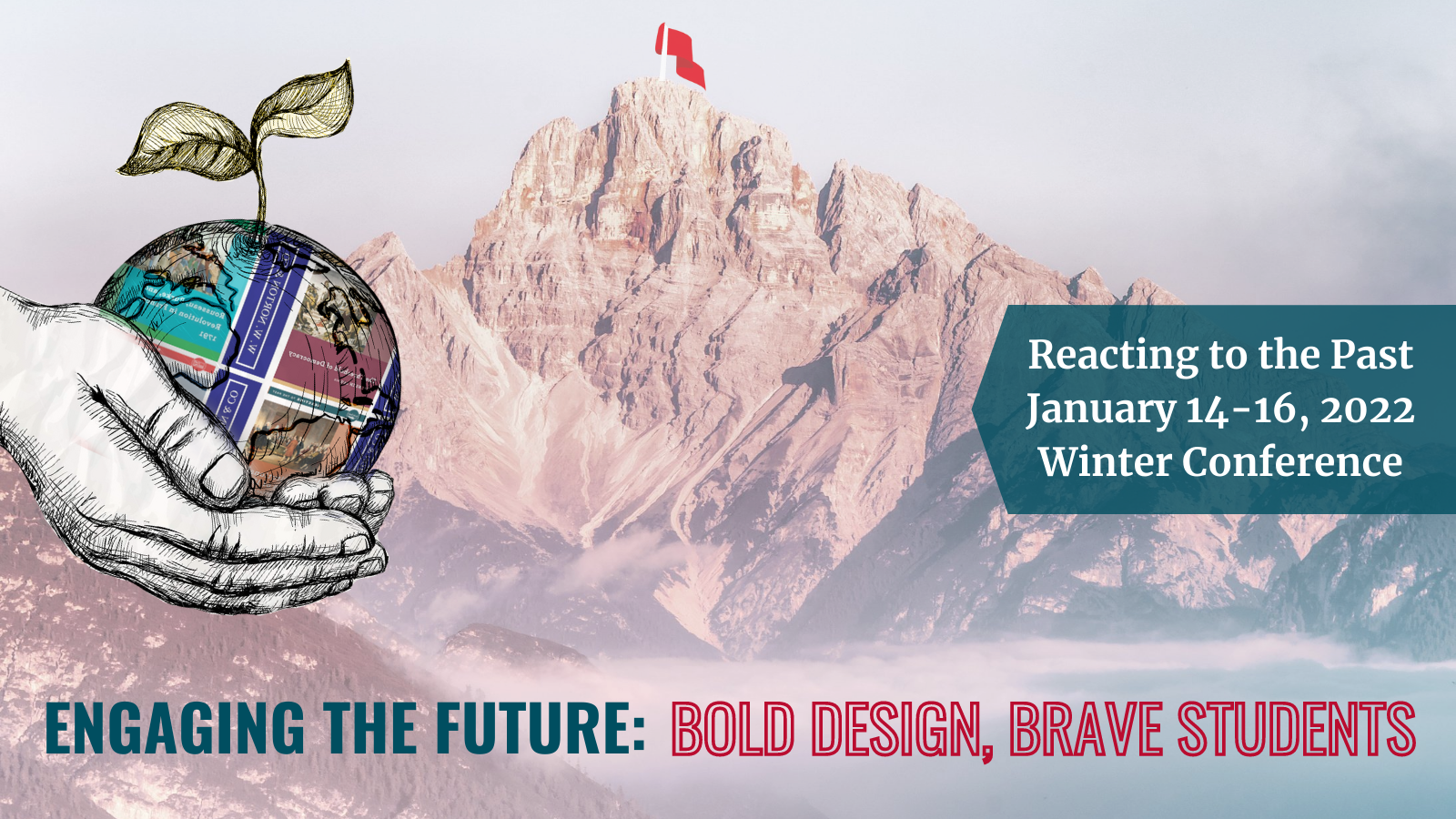 The 6th Annual Winter Conference, hosted by the University of Georgia Reacting to the Past Program, will be held from January 14-16, 2022. In response to community feedback, the conference will be a remote event, allowing you to attend from anywhere through the Zoom webinar platform. Our theme for this year's conference is "Engaging the Future: Bold Design, Brave Students" and will focus on the opportunities that the pandemic has given Reacting faculty and students, rather than what it has taken away. Our goal is to provide a conference that will rejuvenate and encourage faculty in their pursuit of active learning through Reacting to the Past!
A pre-conference workshop on "Reacting with the Archives: Bold Design, Brave Faculty" will take place from 7:30-9:00 pm (Eastern) on Friday, January 14. This workshop will walk faculty through inclusive course design principles for using Reacting games to meet course objectives and demonstrate how to incorporate archival material (both what may be available in their own campus' archival collections and what they can find in digital archive collections that are open to the public) to enhance game play.
Games will run on Saturday and Sunday from 11:30 am to 4:30 pm (all times Eastern), and will include a daily half-hour break. Registrants may choose one of the following five game options:
Rates for this year's Winter Conference reflect the savings an all-remote event offers:
| | | |
| --- | --- | --- |
|   |  Consortium Members |  Non-Members |
| Early Registration (through Oct 31) |  $100 | $150 |
| Regular Rate (Nov 1 - Nov 30) | $125 | $175 |
| Late Registration (Dec 1 - Jan 10) | $150 | $200 |
Not sure if you're a member of the Reacting Consortium, or want to join? See more information here, and contact Maddie Provo for assistance.
If you'd prefer not to play a game and only to attend the Friday night pre-conference, you may register for that event at a rate of $50, regardless of status or date of registration.
Be a Part of our Keynote Panel!
For this year's Winter Conference, we are looking to turn our keynote address over to the
Reacting community! Reacting faculty are agile and resilient—two qualities very much in
demand during a pandemic—so we want to hear from you about how Reacting to the Past has
helped you adapt and thrive in the midst of unprecedented challenges and uncertainty over the
past year. Submit a video recording sharing with us how Reacting to the Past has enriched your
teaching during the pandemic. We will select up to eight of you to share your experiences and
ideas at the Winter Conference AND we will give you a  discount on your registration fee for a
future Reacting event.
If you are interested in being considered as one of our keynote speakers, then take the following
steps:
Use Zoom or any other video recording program to record a brief video, no more than two minutes in length, reflecting on how Reacting has helped you in your bravest and boldest moments of teaching during the pandemic (in a Reacting course or in any course);
Save the video with your name as the title of the file;
Click here to upload your video--no later than Friday, December 5th!
If you are selected as part of the keynote panel for this year's Winter Conference, we will ask you to expand your video entry into a casual, 5-minute talk for your peers. Remember: keep it encouraging!
The Reacting Consortium Board, in its sole and absolute discretion, reserves the right to bar any person from the Reacting Faculty Lounge on Facebook and from participation in any RTTP event, including, but not limited to, the annual Summer Institute at Barnard College.