Campus Spotlight: University of Puget Sound
Our Reacting Consortium Member Campus Spotlight series highlights Reacting to the Past on different Consortium Member campuses. Keep reading to see how the University of Puget Sound, Reacting Endeavor Grant recipient and private liberal arts college in Tacoma, Washington, has been using Reacting to the Past for well over a decade to instill energy and empathy into classes across disciplines, and to spur meaningful conversation in and outside of the classroom.
Student Participation
Students from the University of Puget Sound immerse themselves in the academic content through costume and roleplay. Here, a student poses in clothes from Ancient Athens. UPS offers several classes about this classical time period, including Athens, Freedom, & the Liberal Arts, Democracy and the Ancient Greeks, and Agon(ies) of Athens.
REACTING AT THE UNIVERSITY OF PUGET SOUND:
GETTING STARTED
Professors at the University of Puget Sound use Reacting to the Past (RTTP) to challenge and motivate students in classes on everything from First Year Seminar to French, and Classics to Government. Eric Orlin, Professor of Classics, was an early adopter of Reacting to the Past in the 2000s, and the first on Puget Sound campus; in fact, a colleague calls him the "granddaddy" of Reacting at the University of Puget Sound. Orlin was looking for a way to energize his Greek History class. He found that The Threshold Of Democracy: Athens in 403 B.C., then in its first edition, provided the spark he was looking for, and has been using Reacting since. Orlin continues to use Athens, and has also incorporated Rousseau, Burke, and Revolution in France, 1791, Beware the Ides of March: Rome, 44 BCE, The Crisis of Catiline: Rome 63 BCE, and Greenwich Village, 1913: Suffrage, Labor and the New Woman games into his classes.
Orlin and other professors on Puget Sound campus were putting Reacting to the Past on their syllabi, but mostly keeping it to themselves. In fact, it was only when Professor Diane Kelley was on a panel at the 2013 American Society for Eighteenth-Century Studies annual conference that Professor Peggy Elliott, a colleague from Georgia State College, presented on the French Revolution game, and Kelley decided to try Reacting. When Kelley returned to campus, she discovered that there were already "avid RTTP instructors" at the University of Puget Sound, including Eric Orlin and Brett Rogers. Kelley uses Rousseau, Burke, and Revolution in France, 1791 in First Year Seminar and upper-division French classes, and intends to use Modernism vs. Traditionalism: Art in Paris, 1888-1889 and The Crisis of Diderot's Encyclopédie, 1759 in upper level French classes in the coming semesters.
Interview with Professor Kelley and Professor Orlin
UPS Professors Respond to Reacting
BEYOND SCHOLARSHIP & SKILLS: USING REACTING TO EXPLORE CRITICAL EMPATHY
Professors Kelley and Orlin propose that Reacting to the Past can provide students a unique opportunity to develop critical empathy, and to consider the complicating factors of embodiment.
The term 'critical empathy' was defined by English Professor Todd DeStigter in a 1999 acceptance speech for a National Council of Teachers of English Award as "a process of establishing informed and affective connections with other human beings, of thinking and feeling with them at some emotionally, intellectually, and socially significant level, while always remembering that such connections are complicated by socio-historical forces that hinder the equitable, just relationships that we presumably seek."
In a Reacting classroom, each student "becomes" a new, assigned historical character, a process which demands the student imagine themselves as someone who may come from a different background, deal with different challenges, and hold different beliefs. Ultimately, Reacting students practice empathy on two levels: first, as their 21st century self, they must cultivate empathy with their assigned historical character in order to understand, and ultimately communicate, the perspectives and objectives of that character; and, second, in the game, as their character they must empathize with the other characters in order to effectively convince and collaborate to achieve the character's goals within the game. Orlin said the value of this unique process goes beyond motivating students to use primary sources, or to practice rhetoric:
Of course I appreciate the elements of engaged learning and depth that some games bring, but more than that I feel that having to try to imagine how people very different from oneself in a different time and place might have behaved, and, more importantly, why they behaved that way, is critical to a humanistic education.
Orlin's emphasis on developing student empathy is particularly timely and relevant: Neal Baer stressed empathy in a Harvard Medical School commencement address, Obama pointed to an "empathy deficit," and academics and pedagogy expertsincreasingly underscore the importance of empathy. Or, as Anne Vilen writes in a blog of Education Week, "critical thinking [...] requires a wellspring of empathy." And the importance of empathy may only grow moving forward. In his piece for the Chronicle, economist Jeremy Rifkin highlights empathy as an increasingly necessary educational foundation in the 21st century. This stands in contrast, and is likely inspired by, an apparent gap in empathy in contemporary students. A 2011 meta-analysis of over 70 studies on empathy in college students from 1972 to 2009 indicates a decline in empathy of 40 percent over that time period. Some blame this reported decline in empathy on increasingly technology-based interfaces, some on economic insecurity expressed in more self-centered demeanors. Whatever the cause, both within and beyond the academy many agree on the importance of empathy in education. Orlin points out that Reacting to the Past offers students the rare opportunity to practice empathy, and develop not only an internal understanding of others, but also how best to effectively convey to others that one empathizes with them.  
Student Photos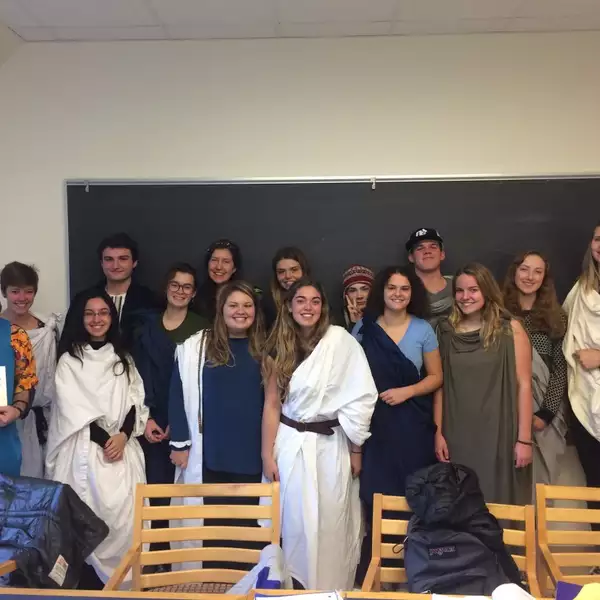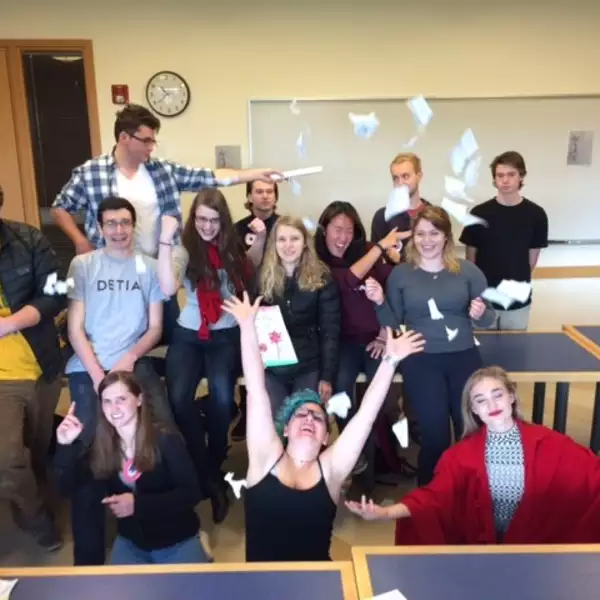 Students showing the silly side of Reacting...
BEGGING THE QUESTIONS:
CHALLENGES OF EMBODIMENT
Reacting not only helps encourage empathy in students, Reacting can also raise challenging questions around representation and embodiment on campus. Orlin says that Puget Sound faculty and students bring a unique awareness "to issues of embodiment," and Kelley adds that her colleagues are thoughtful about "potential problems around the idea of embodiment and its complexities." Orlin continues:
On the one hand, it can be useful to assume the character of a person from the past, but at the same time we all have bodies in the present that affect the way others perceive us even when we are 'in character.'  This can complicate Reacting in very interesting ways.
Issues of character, context, message, and messenger can be complicated when, for example, a woman student is playing a character who is an anti-women's suffrage man. Reacting can open up new conversations within the historical game and about gameplay, and Reacting is adding to ongoing discussions of embodiment at the University of Puget Sound. These discussions also parallel scholarly engagement in philosophy around embodiment.  For example, Louise Antony, in her article "Embodiment and Epistemology" in the The Oxford Handbook of Epistemology, argues that it is reasonable to think that theorizing about knowledge can be influenced by features of our embodiment, even though knowing itself does not seem to vary relative to such external features. We look forward to hearing more from these discussions at Puget Sound as we encourage the broader Reacting community to continue to engage with big questions.
---
The professors of the University of Puget Sound use Reacting to challenge their students, and offer opportunities to tackle class material in innovative and intimate ways. The University of Puget Sound explores and encourages empathy while asking big questions, and we are excited to continue working with this energized campus.
NOTE OF THANKS
Thank you to Professors Eric Orlin and Diane Kelley for sharing their experiences with us, to Professor Brett Rogers for sharing photos, and to all the faculty at the University of Puget Sound. 
 
CITATIONS & REFERENCES
Antony, Louise M. "Embodiment and Epistemology." The Oxford Handbook of Epistemology, by Paul K. Moser, Oxford University Press, 2005, pp. 463–479.
Baer, Neal. "What Matters?" Paying for Health Care with Time | Harvard Medical School, 2018, hms.harvard.edu/news/what-matters.
Dolby, Nadine. "The Decline of Empathy and the Future of Liberal Education." Association of American Colleges & Universities, 18 Dec. 2014, www.aacu.org/publications-research/periodicals/decline-empathy-and-futur....
Konrath, S. H., E. H. O'Brien, and C. Hsing. 2011. "Changes in Dispositional Empathy in American College Students Over Time: A Meta-Analysis." Personality and Social Psychology Review 15 (2): 180–98.
Rifkin, Jeremy. "Empathic Education: The Transformation of Learning in an Interconnected World." The Chronicle of Higher Education, The Chronicle of Higher Education, 30 May 2010, www.chronicle.com/article/Empathic-Education-The/65695.
Vilen, Anne. "Empathy + Critical Thinking = Compassionate Action." Education Week  22 Sept. 2015, blogs.edweek.org/edweek/learning_deeply/2015/09/empathy_critical_thinking_compassionate_action.html.
---